Policy
The Policy component of the programme elaborates the significance of energy efficiency strategies. It is expected that the Energy Efficiency Strategy and Biomass Energy Strategy will be in place and be implemented within the next two years. Following the approval of the two strategies by the cabinet, the implementation, monitoring and evaluation of these strategies will be supported by the programme. The conceptualization and institutional set up of an energy efficiency entity within the Nepalese government structure is envisaged to mainstream the process of promoting energy efficiency in the country and to establish a much needed regulatory framework. The Nepal Energy Information System will be strengthened for establishing an energy information and management system that will support analysis and decision making in energy related initiatives. Additionally, NEEP will emphasize on integrating Nepal's energy efficiency interventions into the general framework of Sustainable Energy for all (SE4ALL).
Background
About 87% of Nepal's total primary energy supply comes from biomass which is generally being used in the household level for cooking and space heating purposes by traditional stoves with very low energy efficiency of less than 10%. Efficiency of other energy usage is also far from satisfactory. Nepal has the highest energy intensity (i.e. amount of primary energy consumed per unit GDP) in South Asia, which is 4.5 times higher than the world average, 1.8 times higher than India or China, 3.5 times higher than Bangladesh.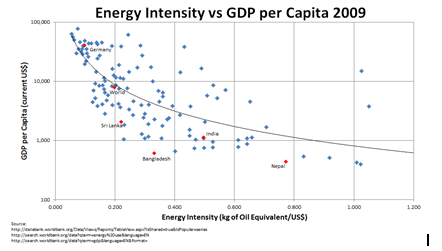 The current way of energy use in Nepal is economically not cost effective, environmentally not friendly; and principally not sustainable. Because of country's large gap between the supply and demand of electricity, greater focus has been given on generating more electricity i.e. more focus on supply side of it , though it is not happening as per expectation. No serious attention has been paid into demand side management and energy efficiency. No comprehensive energy efficiency strategy as well as integrated energy policy is in place so far.
Energy efficiency is the most effective energy resource for reducing the supply gap, carbon emissions and reliance on expensive imports of petroleum products. The Energy Efficiency increases the energy security and reduces the level of per capita energy consumption and overall power system peak demand. Reducing peak demand improves the electricity system's reliability and reduces the load-shedding hours. Energy efficiency is not just 'an energy saving', it is rather 'producing more with less', i.e. consuming efficiently, working efficiently.
Urbanization and economic growth in Nepal have led to a large increase in demand for modern energy services in residential, commercial, public and industrial sector. The demand will increase even faster with social and economic development. Energy efficiency in buildings as well as in industries is vital to energy security in Nepal. It has been widely accepted that energy efficiency has the greatest potential of cost effective CO2 reduction among all energy consuming sectors.
Rationale of Energy Efficiency Strategies and Policies
Because of the misconception that energy efficiency might slow the economic growth, priority might be given first to ensure economic growth and deal with energy saving later. A well-conceived energy efficiency strategy will not only allow them to achieve the goal of economic growth with much lower energy consumption but also enable them to improve the living standards and quality of life, while making human and financial resources available for other aspects of societal development such as education, healthcare and others.
Energy efficiency is widely recognized as the "low-hanging fruit" for achieving energy security, inclusive development, and transition to a low-carbon economy. Investment in energy efficiency could be very attractive as the incremental capital investment is recovered in a reasonable time period, energy costs are lowered, and energy productivity is enhanced, thus helping nations and businesses to be better prepared against any sharp hikes in fossil fuel prices. The general objective of energy efficiency could be to ensure a certain level of production and services with energy consumption optimized with respect to the cost. Nepal has faced the added challenge of achieving the target of production and services while confronting energy supply constraints. The deficit in energy supply can very well be met by minimizing the "wasted energy." Wise investment in end-use efficiency can help avoid huge capital investments in power plants that have a long gestation period and are expensive to operate as well.
Despite the growing awareness about the merits of energy efficiency, and energy efficiency programmes, Nepal is still far from realizing the significant energy efficiency potential because of a number of policy, institutional, informational, technical, financial, and market barriers that have not been effectively tackled. Taking account of the specific socioeconomic context of Nepal, energy efficiency policies need to be designed and implemented to address those barriers effectively.
Though, there is not an energy efficiency strategy of Nepal yet, there are already some government policy interventions regarding the energy efficiency. The current Three Year Plan (2010-2013) has already mentioned the need of energy efficiency and government's commitment to move further for better efficiency in the energy sector. The plan has specifically highlighted energy efficiency issues under the headings of industry, hydroelectricity, alternative energy, and environment & climate change. Furthermore, the same Three Year Plan has made a reference to number of other government's decision-documents where energy efficiency falls under the priority actions, plans and programmes of the government. For example, National Electricity Crisis Mitigation Action Plan 2008 has clearly outlined specific action and policy measures to be taken for better energy efficiency. Likewise, Ten Year Hydropower Development Plan 2009, National Climate Change Policy 2011, National Water Plan 2005, and National Adaptation Programme of Action (NAPA) 2010 have also highlighted the need of energy efficiency for better energy management. Periodic energy auditing and reporting; public awareness and sensitization; development of standards; certification and labelling; energy efficiency codes; incentive (both technical and financial) for energy efficiency measures are some of the proposed measures already mentioned in these documents. There seems a clear need of bringing all these efforts and decisions together in order to formulate a national energy efficiency strategy which becomes an integral part of national energy strategy.
Objective
The main objective of this component is to formulate energy efficiency strategy and biomass energy strategy
Indicators
The followings are major indicators of the component
Energy efficiency strategy (EEST) and biomass energy strategy (BEST) are drafted and presented to cabinet for approval
Concept for creation of an EE Entity based on the recommendations of EEST and BEST, submitted to the ministry
Major Activities
The following activities describe fields of work to be done in close cooperation mainly with the Ministry of Energy as Implementing Agency. The coordination role of the Ministry also should allow integrating other relevant stakeholders into the development of strategies, policies, and regulations.
The support to the Nepal Energy Information System (NEIS) should be continued and intensified as more good practice examples will be achieved during the next phase by various stakeholders. This could also include training of stakeholders to deliver relevant data.
The support to prepare an Energy Efficiency Strategy (EEST) draft should be continued which also could include developing a concept for creation of an EE Entity on the base of the EEST once it is approved by the cabinet.
The support to promotion and awareness raising measures together with relevant implementing institutions and other organisations like media (e.g. energy weeks, fairs, creating and utilizing a specific Energy Efficiency Award, etc.)
As the Sustainable Energy for all Programme (SE4All) has already started in Nepal, support should be given to the relevant agency in integrating the EEST into the SE4All process and in assisting the Ministry of Energy in its facilitating role coordinating the topic of Energy Efficiency as one of the SE4all working areas.
Support for cogeneration of power from agricultural residues in potential industries like sugar and pulp & paper.
After the approval of the Biomass Energy Strategy (BEST) and the EEST the following activities can be taken up
Supporting the dissemination and M&E of the implementation of BEST and EEST
Supporting the Ministry of Energy in the conceptualization of the institutional set-up of an EE Entity and necessary attunement among Government institutions
---
Downloads

Presentations of the "International Seminar of Energy Efficiency", Kathmandu
Energy Related Policy Documents:
What is
Energy Efficiency?
Energy Efficiency, is the goal of efforts to reduce the amount of energy required to provide products and services.
(In short terms: Do more with less)
+Read more